A brief look back
With the help of their brother/brother-in-law Klaus, Gertraud and Guy were able to purchase the neighbouring plot to the Sonnenburg. Thanks to an enormous feat of strength by the whole family, the Hotel Montana was planned and constructed from scratch in the summer of 1963.
In the winter season of 1964/65, the Montana already had two storeys and presented itself in an inviting location high above Lech. As the fairy godmother of the hotel, Gertraud welcomed the guests, looked after them throughout their stay, did the invoicing and managed the room allocation plan (all by hand, of course).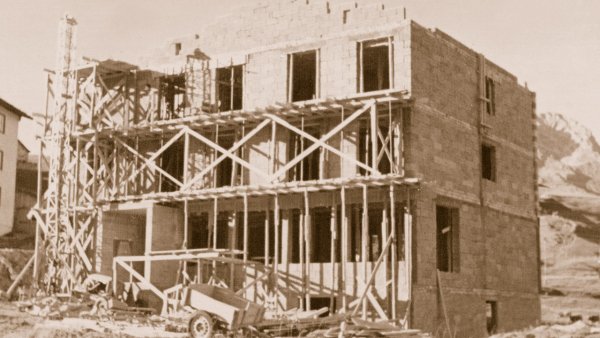 Patricks career:
caretaker - Olympic champion - father
In 1967, Patrick was born, and it soon became apparent that the hotel business was in his blood. At the tender age of 5 or 6, he was already the most important assistant of the caretaker at the Montana.
Equipped with a pair of pliers, a screwdriver and insulating tape, he was constantly scurrying through the hotel, checking that everything was ok.
In 1977, Gertraud and Guy added a third and fourth floor to the Montana as well as a new hall and restaurant. Just three years later, the hotel was upgraded further when the indoor pool and wellness area were added, putting the Montana firmly into the 4-star category.
1992 was an absolute highlight in Patrick Ortlieb's career: He won the gold medal at the Olympic Winter Games in Val d'Isère.
In 1994, Patrick won the legendary Hahnenkamm downhill race in Kitzbühel – and the hand of his beloved Kathrin! The two got married and soon welcomed Lara, their first child.
In 1996, Patrick won the World Champion title in the Sierra Nevada in Spain before the Italian Kristian Ghedina and French skier Luc Alphand. His daughter Nina was born shortly afterwards.
After the end of his career as a professional athlete, Patrick dedicated himself to the hotel full-time. In addition, he took care of young talents in the SCA (Skiclub Arlberg) – and in his own home: In 2003, Kathrin and Patrick welcomed their third child, Jona, a strapping boy.
Impressions
Get an idea of what it's like.